Posted by Rob Longenecker on May 19th, 2008
Tucker's Cover Up IWB remains a favorite with our customers and got a recent boost from the American Cop article written by Mark Hanten. The result of the article was a flood of orders (Tucker's catching up on them).
I was invited recently to visit a forum with which I wasn't familiar by a customer who told me that's how he had discovered us. The Forum is called Total Protection Interactive. (You may want to check it out, especially if you're considering appendix carry.)
The thread was all about how people were using Tucker's Cover Up so I registered and introduced myself. 
Soon after a great post showed up in the form of a review of the the Cover Up for appendix carry and I thought I'd share it with you. You may get some good carry ideas.
Here's a picture from the post. There are many other well-done photos.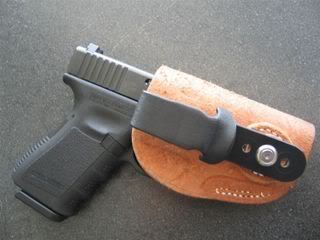 The Cover Up remains one of the most versatile IWB's available anywhere. In fact, we just came out with a kydex version of it and a leather-lined kydex version called the Silent Thunder IWB with a short turnaround time for delivery. Demand is already strong.